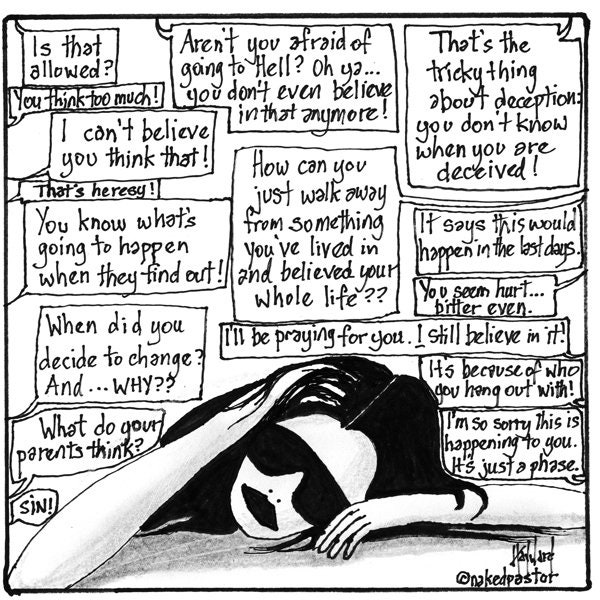 I recently reposted the cartoon above by the nakedpastor with the caption 'What people say when you change your beliefs'. It prompted some interesting comments and one in particular got me thinking. How would we want people to respond? How should you respond if someone tells you this? Here are some of my thoughts. I'd be interested to hear yours.
Remember your friend has made themselves vulnerable to you. It has probably taken them considerable courage to speak up on the topic. Please be sensitive to that.
Responding with shock, disbelief, or disapproval will almost certainly shut down the conversation and possibly jeopardise your relationship. Again, remember your friend has made themselves vulnerable to you.
Asking about the way they arrived at their new belief is probably a good thing. In most cases I am sure they would appreciate being listened to and taken seriously. But asking them 'WHY!!!??' is maybe not so good.
Bear in mind you don't have to agree with them but neither do they have to agree with you. Don't try to convince them they are wrong. I am sure it won't work and by pushing them away you will probably lose a friend at a time when they need you.
Don't use fear to try to manipulate your friend. You may believe that their new views are dangerous and will lead them to 'ship wreak their faith'. But this says more about your own fears and your own faith than your friend's. You may be sure they have already tortured themselves with these fears before they spoke to you. Right now they need to feel listened to and valued. Full stop.
Don't pull away from the relationship. You may find the conversation awkward, and it might even unsettle you in your own beliefs. But your relationship is more important. Your friend needs you and you need them, and you can find a way to be their friend even if you believe different things.
Finally it goes without saying you should not go and repeat what you discussed with a third party. This is simply gossip and a certain way to lose your friend and hurt them into the bargain.
What do you think? How have people responded when you have told them you have changed your beliefs? How do you wish they had responded?
If you are going through a process of questioning your beliefs and feel you have no-one to talk to, there are a number of online spaces where you can discuss issues of faith and doubt without getting censured: